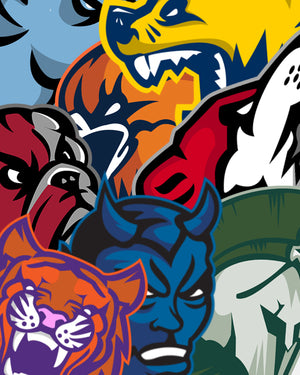 Impostors
---
I love college athletics. In particular, I love the collegiate logos. Nothing strikes fear in the heart of your opponent than a badass mean looking logo! But some schools really need to update their look. (sorry Rutgers, yeah I'm talking about you and Illinois and Northwestern, heck you could insert the entire Big Ten Conference here). 
I know a lot of schools use an iconic letter or symbol to showcase their design and that's okay. I just thought It would be fun to create my own school logos. I'm not trying to bash the current sports logos we have all come to love (well, maybe a little) but here is my take on "in your face, mean mugging school logos that should make you scared". That might be a little over the top, but you get the picture.
The Impostors Collection. Not all schools will be represented here, but maybe yours just might? Show up at the game in this re-imagined logo and stand out from the crowd as you fit in??....
Sorry, there are no products in this collection.